Documenting your buyer personas will help you understand your audience and develop content that meets their needs.
Use this helpful worksheet to
[row] [span8]
Define your persona's title and duties
Identify your persona's challenges
Ascertain your persona's age, income, and education level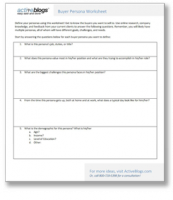 [/span8] [span4]
Oops! We could not locate your form.
[/span4] [/row]